Commercial & Residential Plumbing Services
At Riverside Plumbing, LLC we are able to handle all of your plumbing needs. We provide plumbing services to all of SE Wisconsin including Milwaukee County, Waukesha County, Washington County, Jefferson County and Racine County to name a few. Riverside Plumbing, LLC is fully licensed, bonded and insured.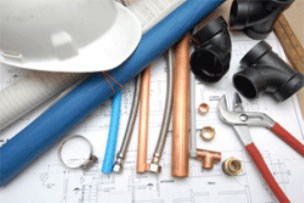 We are also members with excellent ratings from Better Business Bureau (BBB), National Association of the Remodeling Industry (NARI), Associated Builders and Contractors, Inc. (ABC) and the National Federation of Independent Busniesses (NFIB).
Contact us to learn more or schedule an appointment.
Call 262-367-3000 for 24/7 Emergency Plumbing Service
---
Plumbing Repair & Installation
Water Heaters
Sump pumps and Backup Systems
Ejector Pumps
Clogged Sewers and Drains Opened
Sinks, Tubs, Toilets, and Faucets
Leak Diagnosis and Repair
Garbage Disposals
Water and Drain Line Repair
Frozen Pipes Thawed
Water Treatment and Softeners
Gas Pipe
Fixtures
Repairs & Replacement
Bathroom sink faucets
Kitchen sink faucets
Tub and shower faucets
Lawn faucets
Laundry tubs and connection boxes
Toilets
Garbage disposers
Tub replacement
Shower bases
Sewer rodding
Sewer camera video inspections
Sewer repairs
Sewer clean outs installed
Drain cleaning
Unclog toilets Water Heaters
Tankless installations
Piping
Pipe repairs
Water pressure restoration
Leak searching
Gas piping
Water piping
Drain piping
Winterize plumbing system (vacant property)
Frozen pipes thawed Pumps & Basins
Sump pumps
Sump pumps with high water alarms
Battery back-up sump pump systems (maintenance free)
High water alarms
Sump basins and covers
Ejector pumps
Ejector basins and covers Remodeling
And Much More!
Atmospheric vent
Power vent
Electric Water Treatment
Water softeners
Whole house filtration
Activated carbon
Centaur carbon filter (iron / sulfur)
R.O. systems
Kitchen and bathrooms
Basement bathrooms (concrete cutting and replacement available)
Additions
Laundry relocates Sewer & Drain
Let's Talk
Contact us today to discuss your plumbing needs by calling 262-367-3000 or send your info online.
Contact Us